Why Purcell Murray
Our Builder team was created to bring Purcell Murray's extraordinary products and customer service to the building industry. With over 25 years of experience and over 500 completed projects, we've built longstanding relationships with developers, and refined a truly turn-key installation process – supported by tools like an internal service coordination hotline. With robust distribution hubs in Hayward (188,000 square feet) and Santa Fe Springs (123,000 square feet), we're able to provide unparalleled fulfillment across the state.
Our Brands
Purcell Murray offers a range of premium products and brands unmatched by any manufacturer or distributor. From cooking to plumbing products, our brand assortment suits every customer need at extremely competitive prices.
Thermador, Bosch and Gaggenau brand product lines contain standardized cutout dimensions for over 25 models of wall ovens and drop-in cooktops.
Have a look →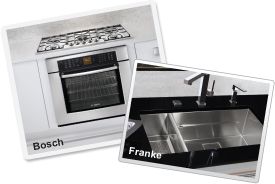 Showrooms, Training Facilities and Culinary Classes
Product trainings are offered at our showroom locations in Brisbane and Huntington Beach, to help our clients leverage our products during the construction, sales, and close phases of the business. Our showrooms deliver additional value by offering new home buyers a unique opportunity to participate in hands-on product education and culinary classes in a collaborative learning environment.
Visit Larissa's Corner to learn more →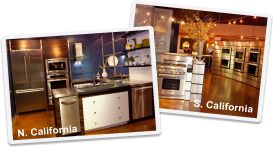 Purcell Murray Builder Sales Company Facts
True turn-key installation process
Over 500 completed projects
Distribution hubs in Hayward and Santa Fe Springs


Contact
For reservations and information about all our events, call 800.457.1340 or email us at reservations@purcellmurray.com. Or visit the showroom nearest you:
Bay Area
185 Park Lane, Brisbane
Monday–Friday 9–4
Saturday by appointment only
Southern California
15400 Graham St. #102
Huntington Beach
Monday–Friday 8-5
Saturday by appointment only